[I apologize for not writing anything on the site in over a week. I've had many things on my mind to write about, but either I didn't have the time or the internet wouldn't be working at the time. Currently I am teaching an intensive 40 hour course on Church History in a NTM Training School in Santa Cruz, I've been here one week, one more to go. Overall it has been a new and enjoyable experience.]
Reading: John 4
(Context: The "woman at the well", a Samaritan woman, has a life-changing experience by meeting Jesus at midday at the town well. She gives Him water to drink, and He gives her eternal water to quench her eternal thirst for love and purpose.)
So much could be said about the encounter between Jesus and the Samaritan woman at the well, so I'd like to focus on Jesus' methodology for Evangelism. She had come out midday, as was likely her daily custom, and she did so at this time instead at a cooler time because of the rejection she probably received for being something like a prostitute (at least she had a lot of "bad marriages"). Samaritans, although excluded and rejected by the Jews, were also zealous for the Jewish faith, imposing the Law on their own as well.
Jacob's well was there, so Jesus, since he was tired from the journey, sat right down beside the well. It was about noon. A Samaritan woman came to draw water. Jesus said to her, "Give me some water to drink." (For his disciples had gone off into the town to buy supplies.) So the Samaritan woman said to him, "How can you — a Jew — ask me, a Samaritan woman, for water to drink?" (For Jews use nothing in common with Samaritans.) (John 4:6-9, NET)
She was a woman. It was a cultural no-no to speak to a woman on your own, it was a quick way to get blacklisted. Actually, it somewhat reminds me of many cultures around the world, including the Latin culture: you can speak to another all you want when you are in a group, not when alone. If you are alone it implies you want something more than friendship with this person, even if one of the persons were married. The fact that Jesus talks to her, a woman, quickly shows His Godly love for her as a person, not as an object. He had come through the Samaritan land to speak with her, of all people, it would seem.
She was a Samaritan. This was a "double-whammy", as we might say. She was of the excluded group of former Jews (according to Jerusalem Jews), who had intermingled in marriage with other people groups. They were unclean, spiritual lepers.
She was a "bad" woman. Jesus didn't have to be omniscient to know she was on the "bad" list. The fact that she was filling her water jars at this time was proof enough that she was excluded by her town. Was she a witch? Was she married to a tax collector? Was she a cult prostitute? Was she a "bad" wife who had forced multiple divorces? That only Jesus knew, and He calls her out on it. I think He did it to test her, not to judge her. If she was willing to recognize her sins publicly, even to a stranger as He, then she was ready for the greatest gift.
She was a false worshiper. Once she does confess, Jesus is about to move on to speak to her of grace, second chances, and God's love for her. Here she wrongly assumes He will criticize her (for the above mentioned "sins" and her sin of adultery), so she takes the opportunity to change the subject, perhaps to "run-off" this foreigner from getting too much closer to her personal life. I'm sure she was nervous, perhaps even afraid. Who is this man? Who told him about me? Is he trying to seduce me? 
Thus, she talks about religion, a hot-button topic throughout the ages, bringing-up an ancient discussion point from the time of the Divided Kingdom 700 years previous. Perhaps she could get this man upset and have Him leave her alone.
The woman said to him, "Sir, I see that you are a prophet. Our fathers worshiped on this mountain, and you people say that the place where people must worship is in Jerusalem." Jesus said to her, "Believe me, woman, a time is coming when you will worship the Father neither on this mountain nor in Jerusalem. You people worship what you do not know. We worship what we know, because salvation is from the Jews. But a time is coming — and now is here — when the true worshipers will worship the Father in spirit and truth, for the Father seeks such people to be his worshipers. God is spirit, and the people who worship him must worship in spirit and truth." (John 4:19-24)
Christ, being so sublimely wise, understands her fears, but it doesn't stop Him from helping her. She was hiding, hiding from the truth behind argument, much like her veil which she likely had over her face. In John 3 Jesus had been confronted by Nicodemus, the doctor of Law, one of the esteemed Pharisees in the Sanhedrin. He asks Jesus about the Law & Jesus confronts him with Grace, at a Biblical level, using the Old Testament as the basis. Argument with argument, and it won the day as later Nicodemus converted to Christianity and was there to bury Jesus after the crucifixion.
Not with her. She was a delicate flower, not a scalpel-like surgeon of Theology like Nicodemus. He was thirsty for knowledge she was thirsty for Love. Different problems, same solution — water for a thirsty soul. What is this water? Truth.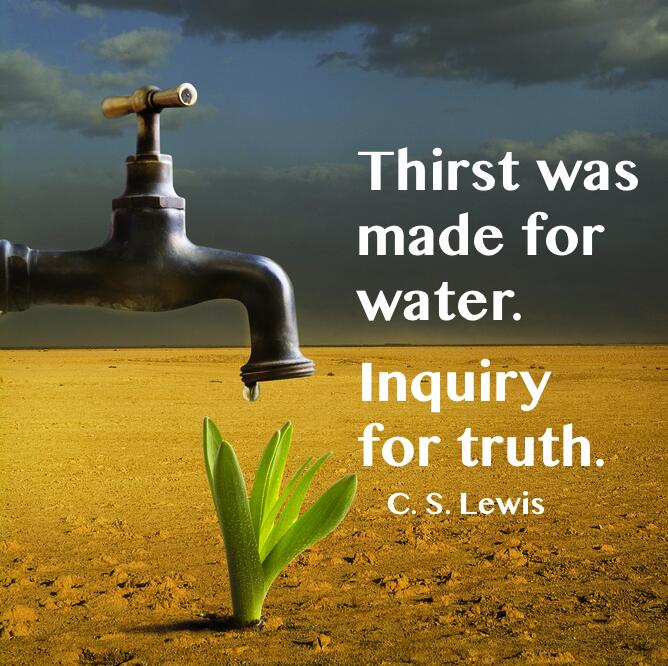 In the early hours of the morning of Jesus' last Passover, Pilate had asked if this carpenter was the King of the Jews:
[Pilate] said, "So you are a king!" Jesus replied, "You say that I am a king. For this reason I was born, and for this reason I came into the world — to testify to the truth. Everyone who belongs to the truth listens to my voice." Pilate asked, "What is truth?" (John 18:37-38)
Jesus answered this deep question before he asked it. He stated that He had come "to testify to the truth…[which is] my voice." Basically when Pilate asked "what is truth?" the answer was standing right in front of him. God is truth, and Jesus is God, anything that contradicts or deviates from Him is a lie. 
Jesus replied, "I am the way, and the truth, and the life. No one comes to the Father except through me. (John 14:6)
Three persons, three deep-seated desires, one person to answer them all: Nicodemus a confounded Theologian, the Samaritan a hopeless "sinner", and Pilate a frustrated politician.
The lesson here? There is no one method to evangelism, instead there is one person. Truth is not a figment of our imagination, it is not up for discussion, it is not changing or malleable, instead it is solid, it is flesh, it Jesus Christ. All humans hunger and thirst for truth to free them from spiritual bondage which shows-up in a variety of ways in the soul. Such thirst cannot be quenched by laws, physical pleasure, or power, for how can the physical realm quench the spiritual? We need eternal water! We need eternal Truth! We need truth incarnate, Jesus our God & Savior.
Jesus replied, "Everyone who drinks some of this water will be thirsty again. But whoever drinks some of the water that I will give him will never be thirsty again, but the water that I will give him will become in him a fountain of water springing up to eternal life." (John 4:13-14)